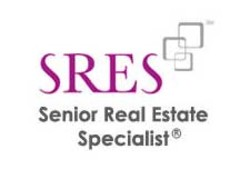 I have lived in the Westonka area for over 30 years. People are friendly, there are so many things to do, and it's like living in a small town, yet you are only a few miles to great restaurants and shopping.
I've always been a caregiver for people in my life. When I was in my 30's, I helped take care of my Grandmother who was in Assisted Living at Presbyterian Homes in Spring Park, while also taking care of my Uncle who was in a wheelchair. I even designed a handicapped accessible home with help from the VA. Now I take care of my parents who are both in their 80's. My mother has had a stroke and a brain aneurysm, and they both have balance issues.
I've learned a lot about wheel chair accessibility, adapting a home to make it safe and more functional, and how to make it easier for them so they can remain as independent as possible.
In May 2019, I completed the coursework and earned the Seniors Real Estate Specialist (SRES) designation. To me it just seemed like a natural fit.
Since then, I've been putting together a list of resources, and it seems like every day I'm adding another name or two. And there are so many people out there who take the time to help me understand how they can benefit people who are 50+.
OK, so I'm not a writer, nor do I ever intend to be one. It probably takes me 10 times longer than most people to write articles. So here are the ones I've created so far…with more to come, just stop back occasionally for new articles.
In the meantime, if you are looking for a particular resource, or how to adapt your home to make it safer and easier, please call or email me at 612-615-5459 or craig.okins@kw.com. I'm happy to help in any way that I can.
What is a Seniors Real Estate Specialist (SRES)? Click here
Thinking about downsizing? Click here
What is a reverse mortgage? Click here
What is aging in place? Click here
Falls, burns, and poisonings are the most common accidents involving older people. By spotting these hazards and taking simple steps to correct them, you can prevent injuries to yourself or your loved ones. Get your FREE Home Safety and Assessment and Checklist for Older Adults
Every month I will be mailing out a flyer with a variety of information about how to make your home safer, things you can do to make life easier, easy and delicious low salt recipes, and many other topics.
If you would like to be on my mailing list, please email your name and address to craig.okins@kw.com and I'll send you out the next issue. And don't worry, I don't share your information with anyone.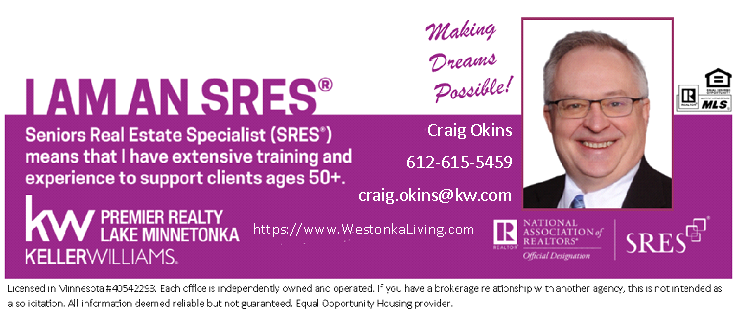 Disclaimers
This website is intended to be a starting point for Westonka area residents and their caregivers as they search for goods and services they need as they age.
I will be adding, changing, or updating this website as time allows, and it is my intention for it to be limited to resources that are located in or near the Westonka area. There are many other very good resources and services available throughout Hennepin and Carver County that you may want to explore on your own. If you have suggestions for changes or input for additions, please contact me by phone at 612-615-5459 or by email at craig.okins@kw.com