Knowing When It's Time to Downsize
Life happens all too quickly. One day you're tripping over one another in a house that barely seems large enough, and the next thing you know, the kids are grown, and you're left with a large house, with empty bedrooms and more work than it seems to be worth.
Taking care of a big house can be a daunting task: shoveling the sidewalks and driveway in the winter, mowing and fertilizing the lawn in the summer, weeding the gardens, cleaning rooms that are no longer used, not to mention the expense of heating a big house in the winter, cooling it in the summer, paying high property taxes, and on and on.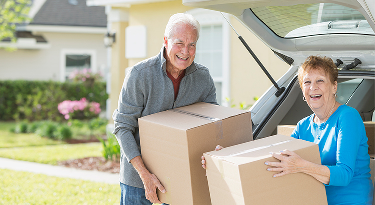 Three Mistakes People Make When Downsizing
Waiting too long to downsize
The biggest mistake we make on downsizing is that we wait too long. Typically people wait until an illness, or even when one spouse dies. That means we're downsizing while we're grieving or struggling through poor health, which are far from ideal circumstances.
Instead, we should plan ahead to downsize so that it's a lifestyle choice-e.g., exchanging home maintenance and yard work for fun activities such as golf games or traveling.
Giving your kids a time limit
Odds are, your kids would love to take some furniture you won't have room for, or a few mementos that are meaningful to them.
Have your kids over and ask them which pieces, if any, they would like to incorporate into their home. But give them a time limit. None of this "I may want that, but give me a couple of months to figure out where I'd put it." Give them a date by which they need to remove anything they would like to have.
Tackling your whole house at one time
Downsizing your whole house all at once will likely be overwhelming, so instead, focus on "thinning out" things you no longer use, like yard and gardening tools, and stuff in the attic or basement.
Start with what you want to keep and set that aside. Make sure it's really going to fit in a smaller home, that it's worth the bother of packing and moving, and you'll actually use the stuff regularly in your new home.
People decide to move for a variety of reasons, and downsizing is no different. What's right for you might not be right for your next-door neighbor, or vice-versa.
For some, moving is a new adventure, and as such is an exciting time, but this is not the case for everyone. Some people find the transition to be a challenge, especially if they are giving up a home where the children were raised, and grandchildren were welcomed can be hard to leave.
To prepare for the emotions of moving, make sure you first embrace them. It's normal to feel a bit sad when making this type of transition! Don't fear these emotions, as they are a healthy part of settling in to your new normal.
Downsizing might not make sense in every situation, but it's worth a look if saving money and simplifying your life appeals to you. As a Realtor and SRES (Seniors Real Estate Specialist), I can help you determine what you home is worth and show you options for cutting costs. I can help you get top dollar for your current home and negotiate the best deal on a new one. And I'm here to answer your questions and be your resource for a variety of services. Call me today, and let's just talk. 612-615-5459